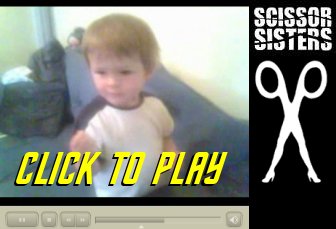 Kieran loves the Scissor Sisters... Everytime we put the TV on, and "
I Don't Feel Like Dancin'
" comes on, he gets up and starts showing his dance floor moves (I can't say I blame him, I think it's a fantastic song). I recorded him earlier tonight on my mobile phone (I apologise for the awful sound quality), and wish to share the clip with you all. Just click on the picture above to start the streaming video.
My favourite part is half way through the video where he looks like his clicking his fingers to the beat of the music..... you'll see what I mean!
--------------------------------
Update - 18th September 2006
--------------------------------
I've had reports that the video doesn't play on certain computers. I've tried it on a few PC's at work and at home and I've been getting a mixture of some that work and some that don't. I think that as long as you have the lastest version of Flash Player installed (9 I think), it should play ok. Shoot me if I'm wrong!